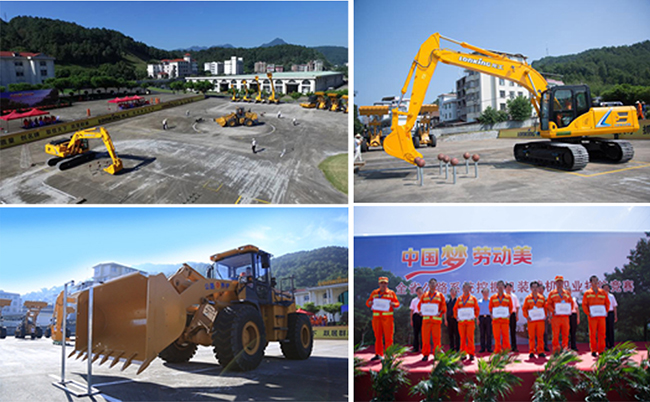 On Sep. 26 to 27, occupational Skills Competition of Excavator and Wheel Loader of Highway Circle in Fujian province under the subject of Chinese Dream, Labor Beauty was held in Lonking (Fujian) Axle and Transmission Manufacturing Co., Ltd. This event was sponsored by Fujian Province Communications Department, Provincial Federation of Labor Union, Provincial Human Resources and Social Security Department and organized by Fujian Province Committee of China Highway Transportation Federation of Union, Fujian Province Highway Bureau, Longyan City Highway Bureau, Lonking Holding Limited. Over one hundred contestants and representatives from the highway circle of many cities in Fujian province and Pingtan Comprehensive Experimental Zone took part in the competition.

This competition takes in the form of theoretical exams and skill examination including operation of two items excavators and wheel loaders. On operation arena were scattered with Lonking elements and Lonking machines were laid out on both sides. Excellent contestants from the highway circle of Fujian province gathered in Lonking and entered into rivalry, making wonderful operation skills. A spectacular visual feast performed by highly skilled competitors was made among the dynamic interaction of wheel loaders and excavators. Items such as excavators shooting at the basket, passing roadblocks and pulling balls and wheel loaders hanging tyres, screwing nuts and reversing& parking, etc. were put on stage with wonderful performance. Competitors kept calm and operated machines skillfully, manifesting endeavoring spirit of tackling challenges and forging ahead with determination and craftsman style of front-line workers with strong theory level and excellent professional skills from the highway cycle. It is reported that these competitors of this year exceeds those of last year. Competitors expressed thanks to stable performance of Lonking products and intimate service on the arena.
As an organizer of this event, Lonking positively participated in its preparation, elaborately arranged facilities on the arena and carried out logistic jobs. Lonking LG6225E excavator and LG855B wheel loader appointed for this competition made stable performance, reliable quality and comfortable operation, being a strong helper in differentiating abilities and doing best performance, and winning reliability and praise from competitors. In spite of strong sunshine, referees out of Lonking technical backbones made fair and just judgment regarding competition results with diligent attitude, and their focus and profession have been praised and affirmed by competition committee and contestants. Lonking people made an impressive impression on all participants by its heart-felt event service and tense but sufficient preparation.

After many rounds of competition finally representative teams from Nanping City and Longyan City won No.1 and No.2 respectively in terms of total scores while Mr. Huang Juncheng from representative team of Zhangzhou City got No. 1 in terms of his individual score. Lonking Holding Limited was awarded with Special Contribution Medal.