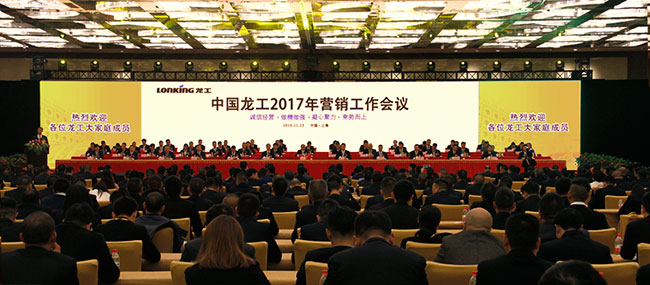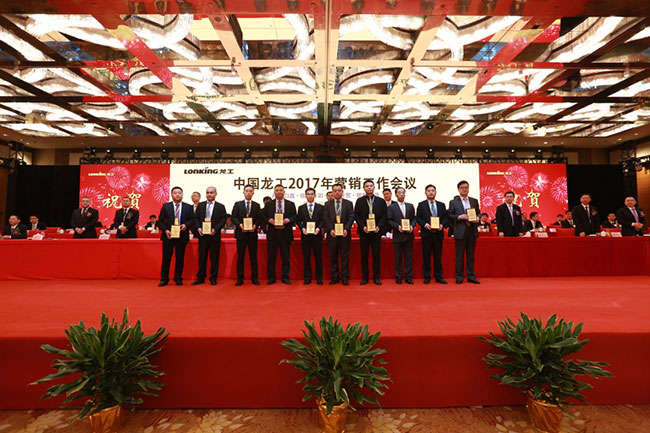 Lonking Marketing Conference 2017 was ceremoniously held at Le Meridien She Shan Shanghai Hotel from November 20th, 2016 to 24th. This marketing conference consists of two parts: wheel loader & excavator, forklift & road machinery. Gathering happily in the same hall with warm atmosphere, Lonking distributors from all over China reviewed achievements made in 2016 and arranged marketing plans of 2017.

Li SanYim, CEO and Chairman of the Board for Lonking Holdings Limited, attended and delivered an important speech. On behalf of the Board he expressed his heartfelt thanks to all Lonking family members for their hard work and accomplishment made last year. Briefly reporting the good development tendency of Lonking at the current stage and analyzing the competitive advantage of its distributors, President Li made a key deployment for the ending development of this year and the opening arrangement for the next year and put forward four expectations to Lonking Business.

Mr. Chen Chao, executive director and Vice President of Lonking Holdings Limited, declared "Commendation list for Lonking advanced distributors in 2016" and 47 outstanding distributors from the business of wheel loader & excavator and 37 distributors from that of forklift & road machinery received recognition and also held a grand award ceremony on the spot.

Luo Jianru, executive director and Vice President of Lonking Holdings Limited, presided over the conference and more than 1200 people including other members from leadership of Lonking Holdings Limited, directors and general managers from Lonking subsidiaries, leaders from Departments of Lonking Holdings Limited and its distributors (including secondary dealers and their branches) and supervisors from Sales, Service and Parts Departments were present at the conference.

"Wheel loader Branch Conference", "Excavator Branch Conference", "Forklift and Road Machinery Branch Conference" were successively held as well and all distributors jointly read out "Efforts Declaration 2017" in the latter branch conference and the conference was concluded with the sonorous and forceful pledge which reaffirmed confidence to achieve the targeted 2017 goal and released powerful and positive energy "reaffirm confidence, make concerted efforts and create Lonking new brilliant business".

The Exhibition of Lonking Series Products and "2017Lonking New Product Launch Conference" were held at Lonking (Shanghai) Industrial Park during the period. All participants cheerfully visited Lonking series products that were presented and won a lot of praise, and expressed their confidence and determination to the future of Lonking Market.